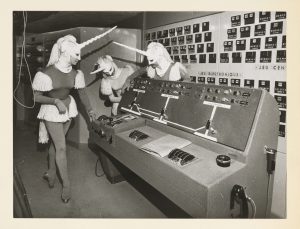 Welcome to the website of the professorship of Theatre Studies and Intermediality Research at the Ludwig-Maximilians-Universität Munich.
The focus of research is on the performative arts with regard to changing media environments in both historical and contemporary perspectives.
The interest is particularly directed towards questions of the mediation of theater: How do the performative arts translate themselves into the social and what knowledge is involved? Central interdisciplinary points of reference are historical epistemology and science and technology studies.
Attention is paid to experimental forms of the performative arts (re-enactments, interventions, etc.) on the one hand, and to the production processes and operational structures of the theater as an institution on the other.
Closely connected to this is a strong methodological interest in ethnographic procedures as well as methods of the Digital Humanities, which in the medium term aims at profiling an empirical theater research.
We are looking forward to hearing from you!